HOME > Project History/Overview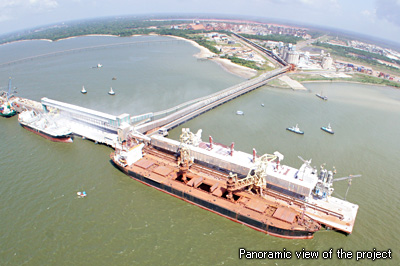 The Amazon Aluminium Complex Project is a bilateral economic cooperation project for natural resource development between Japan and Brazil to construct and operate aluminium integrated complex composed of an alumina refinery plant and a primary aluminium smelting plant by taking advantage of abundant bauxite ore in Amazon region and rich hydroelectric resources of Amazon River basin.

The project is of great significance both for Japan and Brazil. For Japan, it secures a stable supply source of aluminium. For Brazil, it brings remarkable benefits in its international balance of payment through the establishment of self-sufficiency of aluminium, as well as in contributing to the economic and social development of the North of Brazil, including creating job opportunities in the region.

Nippon Amazon Aluminium Co., Ltd. (NAAC) was established as project management company to manage the Amazon Aluminium Complex Project in 1977.
In addition to make capital investment and loans to ALBRAS and ALUNORTE, local joint venture companies in Brazil, NAAC has functions to dispatch executives, take part in the management, take aluminium ingots produced by ALBRAS according to its shareholding ratio in ALBRAS and then allocate them to NAAC's shareholders, among others.
The Project started as joint venture project with Companhia Vale do Rio Doce - CVRD (privatized in 1997, present Vale S.A.). Present joint venture partner is Norwegian Norsk Hydro ASA, world's leading integrated aluminium company. Norsk Hydro ASA took over control and ownership of Vale S.A.'s aluminium businesses in 2011.

Top of this page