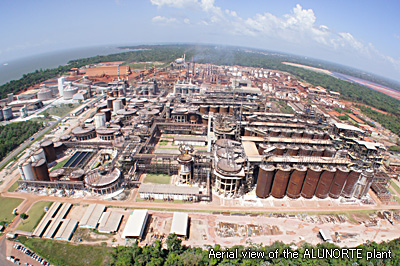 ALUNORTE is an alumina refinery plant to produce alumina from bauxite ore. Although the construction work was started in 1981, ALUNORTE suspended temporarily the construction work, in view of the international commodities market crisis and the change in shareholder composition, among others. Overcoming those difficulties and challenges, the installation of annual production capacity of 1,100,000 tons of ALUNORTE was completed in 1995 with overall investment of approximately US$0.9 billion, resulting in establishing alumina/aluminum integrated production system.
Since then, ALUNORTE has undergone three expansions to increase its production capacity to 6,260,000 tons per year, becoming the biggest alumina refinery plant in the world.
Bauxite ore, raw material for alumina production, is supplied stably to ALUNORTE both from Trombetas Mine and Paragominas Mine. ALUNORTE supplies 100% of ALBRAS' requirement of alumina, raw material for ALBRAS to produce aluminium.
ALUNORTE, as with ALBRAS, has been exerting its efforts to aim for the best in Quality Control, Human Resource Development, Environmental Conservation, Social Contribution, among others, and obtained four international certifications of ISO-9001 (Quality Management System), ISO-14001 (Environmental Management System), OHSAS-18001 (Occupational Health and Safety Management Systems) and SA-8000 (Social Accountability).
Company name

ALUNORTE – Alumina do Norte do Brasil S.A.

Lines of business
Production and commercialization of alumina and its related businesses
Location of Head office/Plant
Distrito de Murucupi, Barcarena – Pará state, Federative Republic of Brazil
Date of establishment
01 September, 1978
Capital
approximately R$3.79 billion
Shareholders
Norsk Hydro group (92.13%),
Companhia Brasileira de Alumínio (3.03%),
Mitsui & Co., Ltd. (2.22%),
Nippon Amazon Aluminium Co., Ltd. (2.17%),
Japan Alunorte Investment Co., Ltd. (0.45%)
Current production capacity
6,260,000 metric tons per year of alumina
Overall construction investment
US$2.65 billion
Number of employees
approximately 1,600