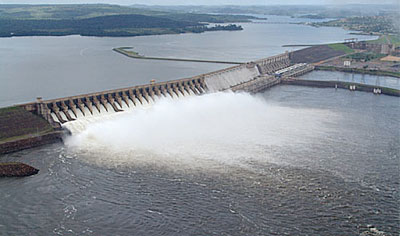 The Tucuruí hydroelectric power station is located at 280 km above the Tocantins River from Barcarena. The construction work was started in 1975 by the Eletronorte (Centrais Elétricas do Norte do Brasil S.A.), Brazilian state-owned electric company, with the loan finance and the equipment from France.
The phase I initiated its commercial operation in November, 1984 and reached full operation at 4,245MW in 1992. The total investment was US$4.6 billion. The phase II was executed sequentially from December, 2002 to May, 2007. Current installed capacity is 8,370MW, which is the second largest Brazilian hydroelectric power station in operation after the Itaipu hydroelectric power station.
Electric power generated by the Tucuruí hydroelectric power station is transmitted at 500kV to Vila do Conde substation adjacent to the ALBRAS plant, and then supplied to ALBRAS, ALUNORTE and Belém city by lowering the voltage to 230kV from the substation. Greater part of power demand in Pará state, including ALBRAS and ALUNORTE (collectively ALBRAS/ALUNORTE's demand is about 850MW) and Belém city is covered by the Tucuruí hydroelectric power station.